Paramedics race to help a homeless man saved by a good Samaritan
Doctor: Some victims of the cold are alcoholics, others mistakenly drink to keep warm
Ukraine's emergencies minister says 9 out of 10 of the deaths have been alcohol-related
Temperatures throughout Europe are significantly lower than average for winter
Kiev, Ukraine (CNN) — Suffering in the grip of a brutal winter where temperatures have not risen above freezing in nearly a month, Ukraine has seen a wave of deaths related to the cold, and the country's ambulance service is inundated with calls for help.
On one recent night, emergency services raced through the streets of the capital Kiev in response to a call about a homeless man passed out in freezing weather.
The man got drunk and either fell asleep or dropped unconscious outside. He could have frostbite.
Vladimir Poddubniy, a passerby, found him, brought him indoors and called for an ambulance.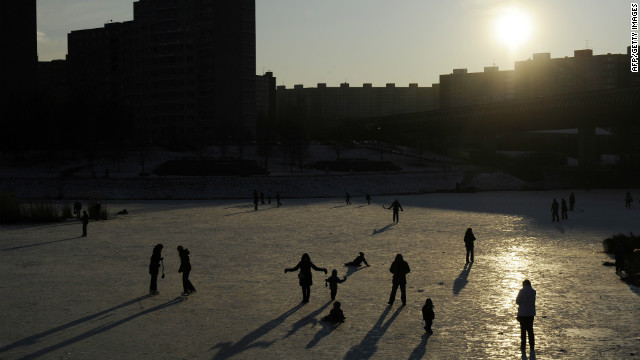 People skate on a frozen pond in Prague on February 6, 2012. Meteorologists this morning measured minus 39.4 degrees Celsius, the coldest temperature of this winter, in Kvilda village, in the South Bohemian Sumava mountains.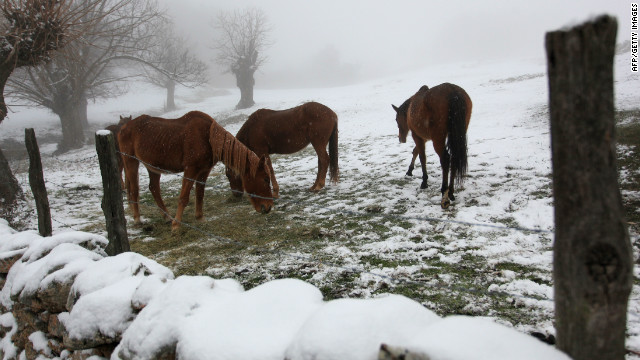 A picture taken on February 6, 2012 shows horses in a field covered with snow in the Corsican village of Cognocoli-Monticchi. In France, 39 of the country's 101 regions were on alert for deep cold or snow, down from more than half the regions at the weekend.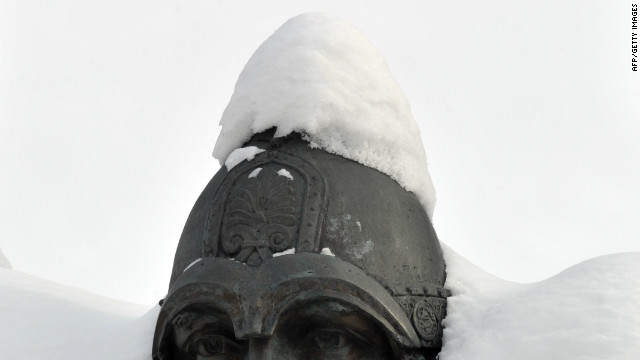 A monument is covered with snow in Kiev on February, 6, 2012 after heavy snowfalls in Ukraine. Ukraine on Monday blamed alcohol abuse as the main cause of deaths caused by a spell of abnormally cold weather that has claimed at least 135 lives over the last 10 days.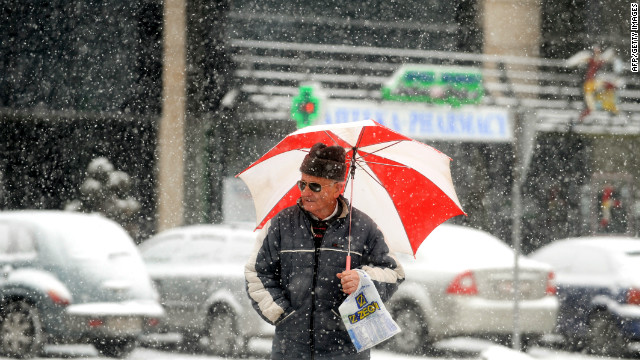 A man walks under an umbrella during a snowfall in downtown Skopje on February 6, 2012.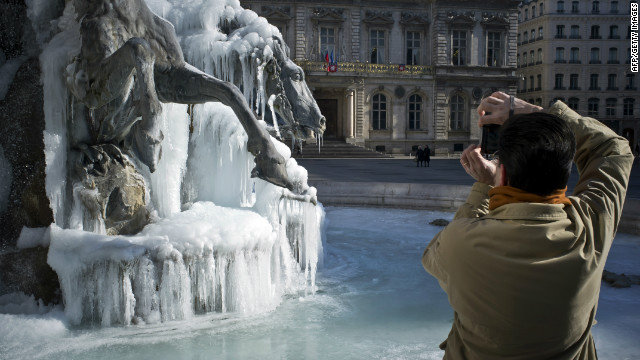 A man takes pictures of a Bartholdi fountain covered by ice on February 6, 2012 on Terraux square in Lyon, eastern France. In France, 39 of the country's 101 regions were on alert for deep cold or snow, down from more than half the regions at the weekend.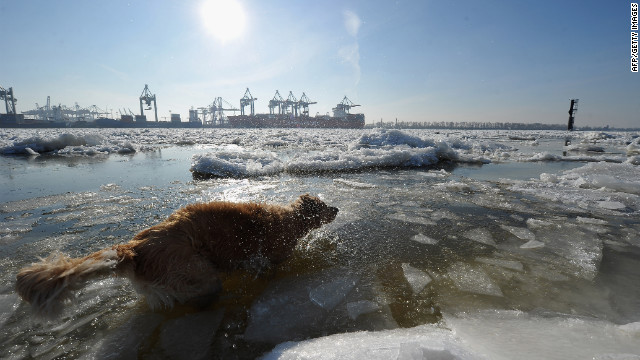 A dog plays in the icy Elbe River on Monday, February 6, in Hamburg, Germany. The Arctic cold snap in Europe has claimed nearly 300 lives, brought air travel chaos to London, and dumped snow as far south as Rome and even North Africa.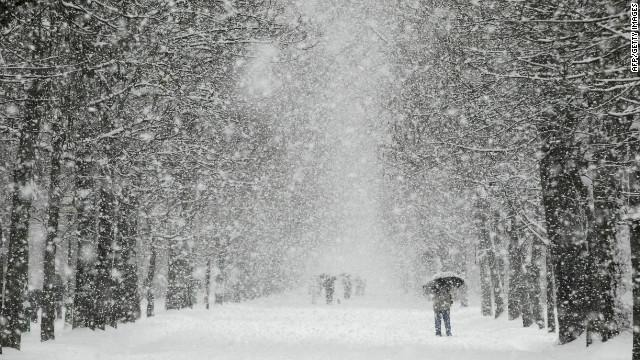 People walk through a park in Burgos as snow hits northern Spain on Sunday.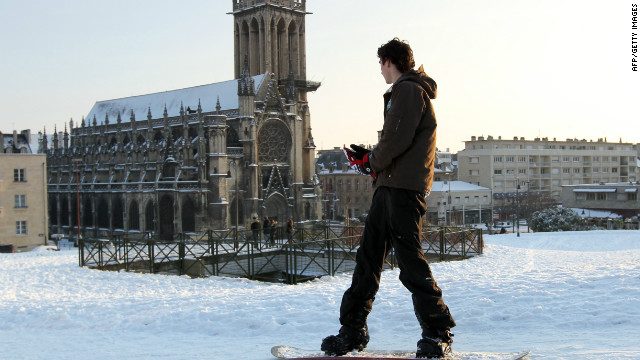 A man snowboards Sunday in Caen, France. Seventy-five French departments were under medium range (orange) alert for snow and ice Monday.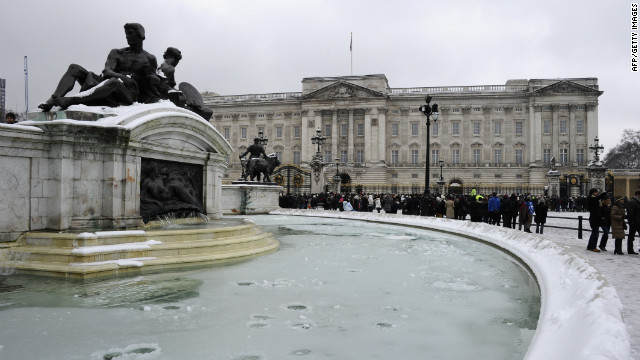 A frozen fountain stands in front of Buckingham Palace in London on Sunday. Heavy snow fell overnight across southeast England, causing many roads to become blocked.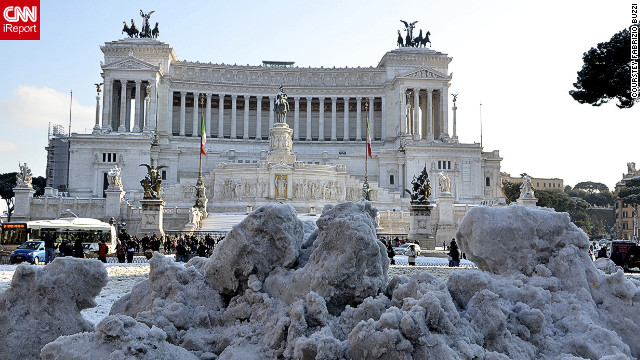 iReporter Fabrizio Buzzi sent this shot taken in central Rome on Saturday. "People go out to enjoy the experience as snow is a rare sight in Rome," says Buzzi.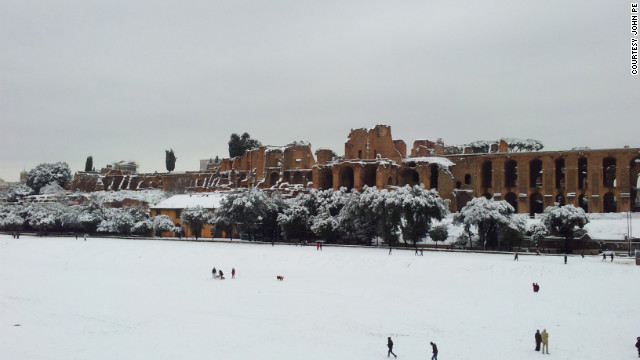 iReporter John Pe shot this photo of the streets of Rome blanketed by heavy snowfall. He said local residents have "gotten their snow gear and have taken to the slopes!"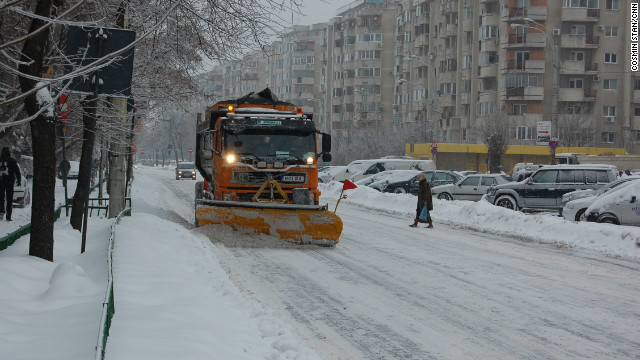 Snow paralyzes traffic in Bucharest, Romania, on Monday.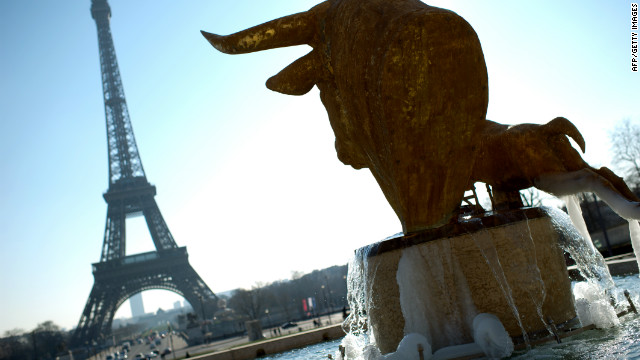 Ice accumulates in the Trocadero fountain in Paris, as France faces low temperatures.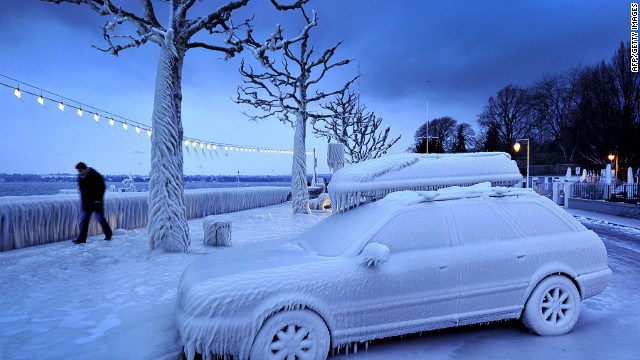 A man walks past an ice-covered car Sunday on the frozen waterside promenade at Lake Geneva in Versoix, Switzerland.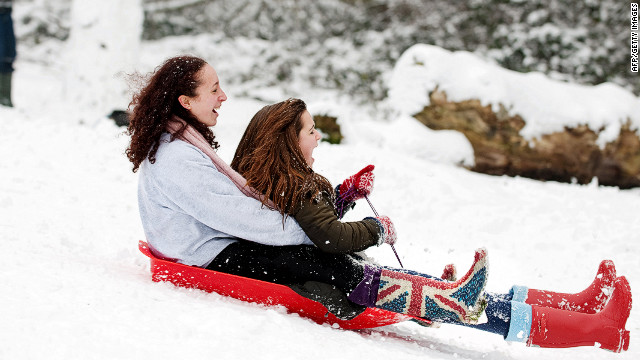 Two girls sled down the hill Sunday in London's Alexandra Park.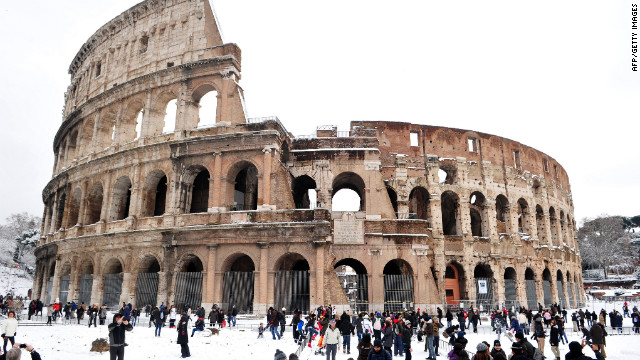 People stand in snow Saturday in front of the Colosseum in Rome.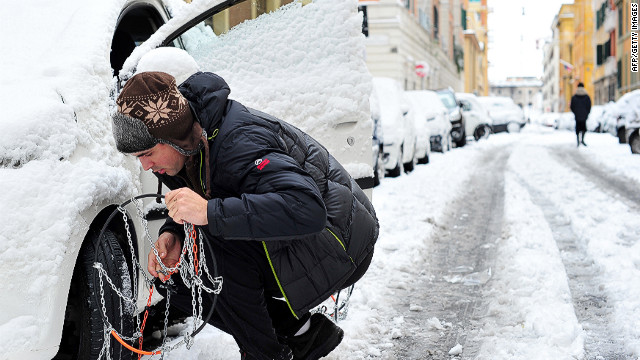 A man puts snowchains on his car Saturday in Rome. Heavy snowfall caused the Italian capital to grind to a halt.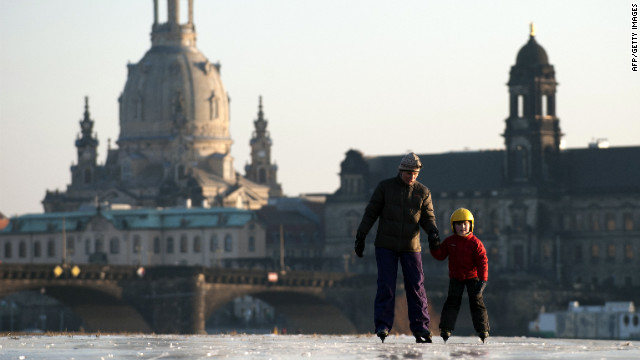 A boy and his mother skate on the partly frozen Elbe River on Thursday as the skyline of Dresden, Germany, is silhouetted in the background.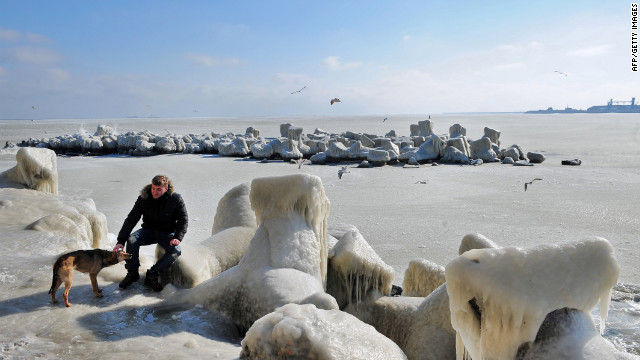 A man pets a dog next to frozen sea waters in Constanta, Romania, on Wednesday. Temperatures plunged to -34 degrees Celsius (-29 degrees Fahrenheit) in central Romania.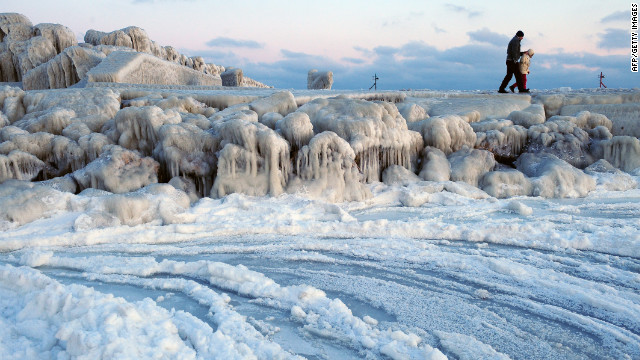 People walk on an ice-covered dam next to frozen Black Sea waters near Bucharest on Wednesday.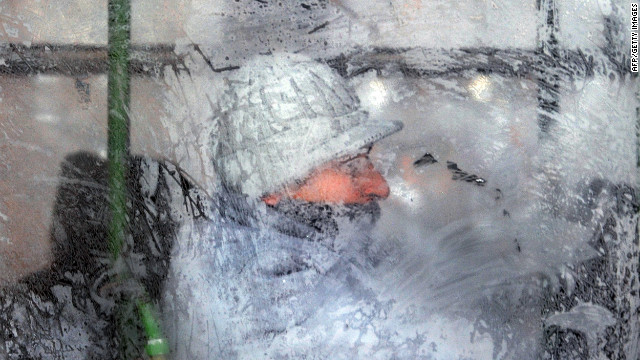 A man is seen through an icy window Wednesday on a tram in Sofia, Bulgaria.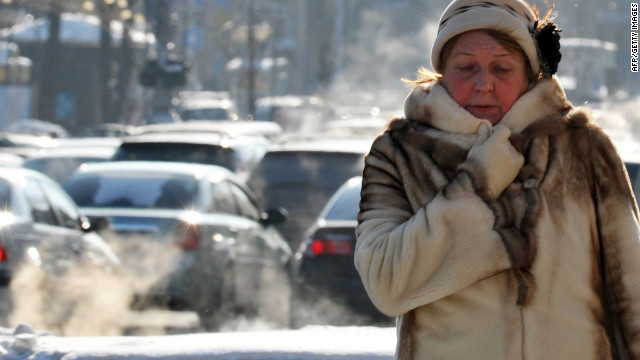 In the Ukrainian capital of Kiev, temperatures dropped to -22 degrees Celsius (-8 degrees Fahrenheit) on Wednesday. The cold temperatures were blamed for at least 31 deaths in the country.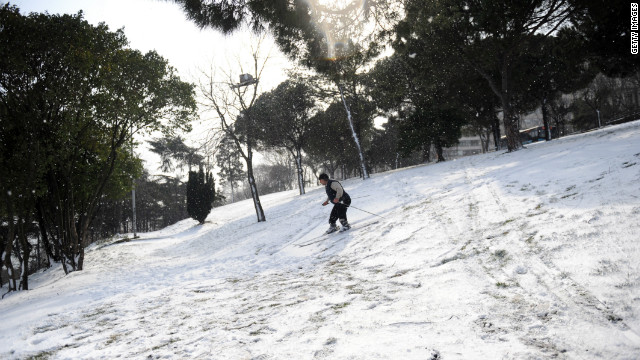 A skier takes advantage of the unusual snowfall in Istanbul, Turkey, on Tuesday. The snow paralyzed daily life there.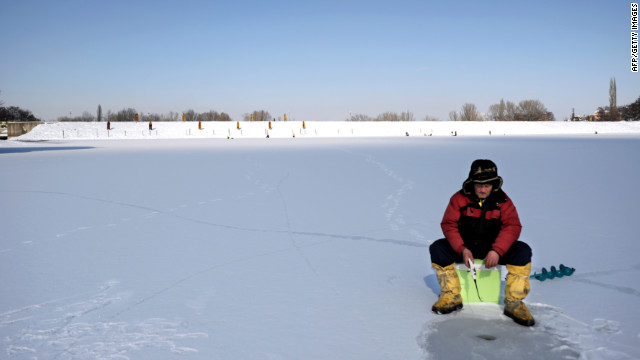 An ice fisherman waits for a catch on a frozen lake near Sofia on January 30.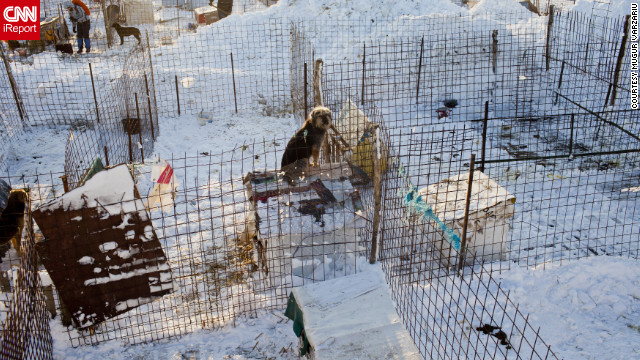 Animal lovers helped remove the snow that covered the "second chance" dog shelter outside Glina, Romania on January 28.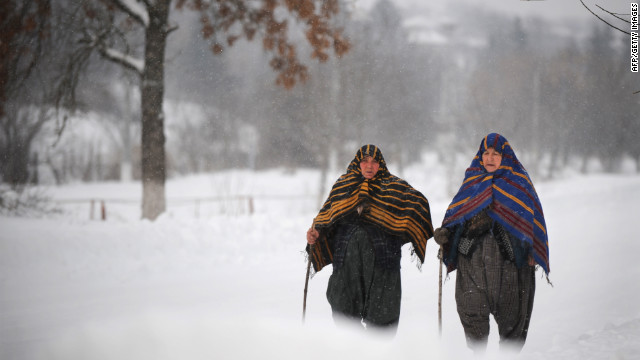 Bulgarian women walk through heavy snow January 28 in Rakovski.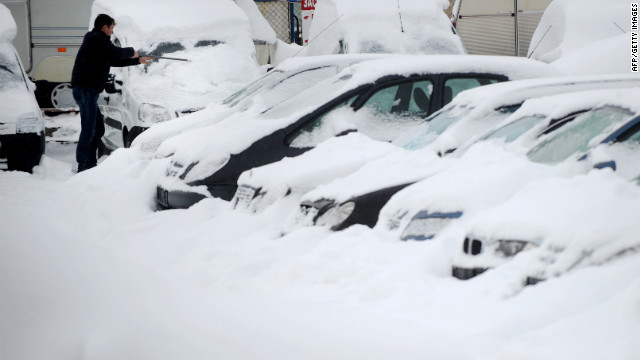 A man clears snow off a vehicle in Sofia on January 27.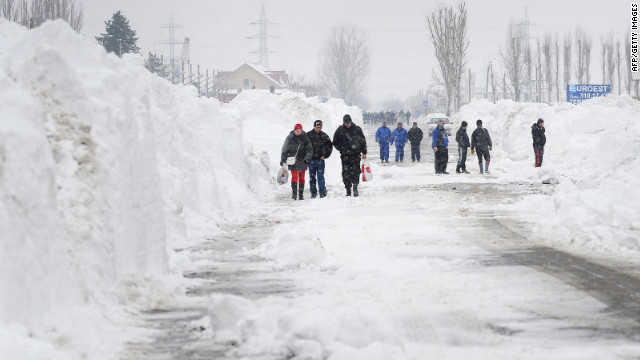 Freshly plowed snow frames a road in Bucharest on January 27.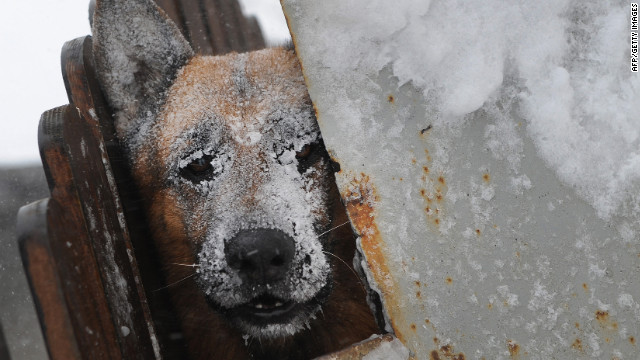 A dog takes shelter from a blizzard in Catelu, Romania, on January 26.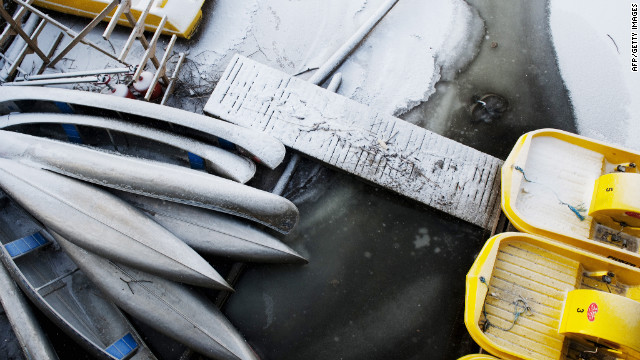 Pedal-boats and canoes sit in frozen water in Stockholm, Sweden, on January 26.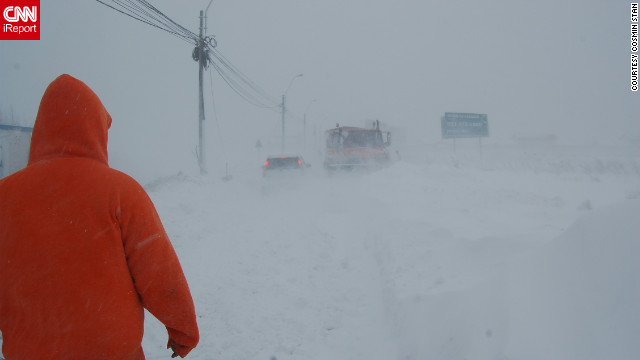 iReporter Cosmin Stan sent in this photo from Bucharest on January 26. "The problem was not the quantity of the snow, but the strong winds," he told CNN.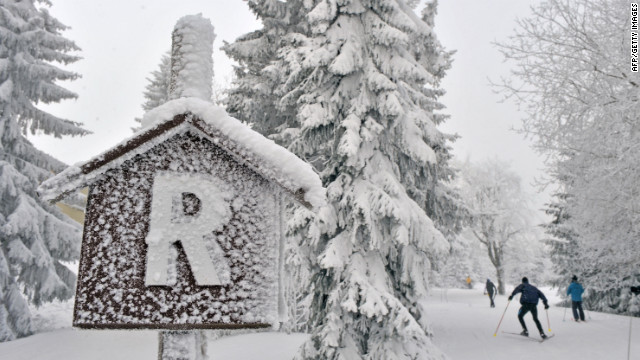 Skiers make their way through the snow near Oberhof, Germany, on January 25.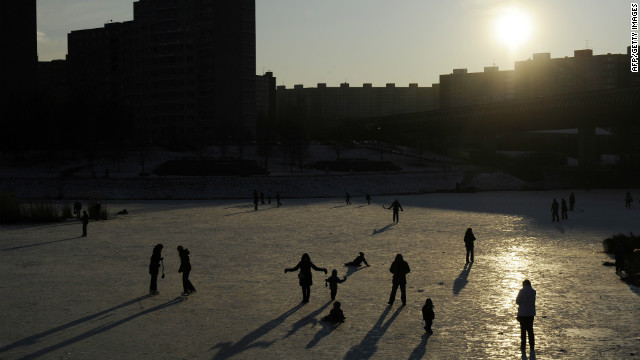 Europe's wintry weather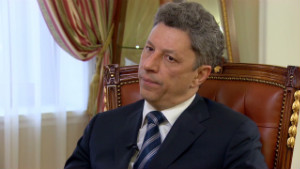 'Not responsible for siphoning gas'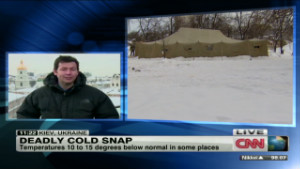 Cold snap strains Europe energy supplies
When paramedics arrived, they found the homeless man, who gives his name simply as Kostya, squatting drunk on the floor. His hand is so swollen, he can barely hold his cigarette.
Poddubniy, who found Kostya, said the homeless man was freezing to death, so he brought him inside.
"I felt sorry for him. But I also didn't want to find a body in the morning," Poddubniy said.
While his rescuer explained, the paramedics determined Kostya needed emergency hospital care for frostbite, and helped the intoxicated man to his feet.
iReport: Beauty and danger of Europe's snow
Kotsya was so drunk, he could barely walk down the stairs.
But in a country where the cold has claimed at least 112 lives in the past month — 90% of them alcohol-related, according to the government — Kostya can consider himself lucky to be alive.
About 3,000 people have been hospitalized because of the cold since January 27, officials said.
Authorities in Ukraine have set up an emergency hospital to deal with people suffering from cold-related conditions, and distributed 3,000 emergency relief tents across the country, they said. The tents are heated, and people with nowhere else to go can get hot food and drinks.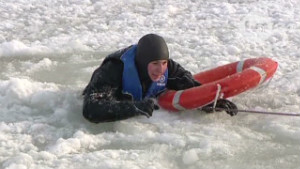 Shelters overwhelmed in Poland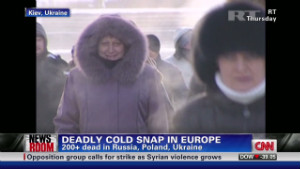 Europe's deadly deep freeze
Dr. Anatoliiy Vershigora, doctor-in-chief at an emergency help station in Kiev, said many of those suffering frostbite, hypothermia and in some cases death were alcoholics — but others had been drinking in the mistaken belief it would help keep them warm.
Ukraine's capital, Kiev, has more than 14,000 homeless people, among the most vulnerable to winter's bitter chill, authorities said.
"It is an unfortunate fact that a lot of homeless people are alcoholic or dependent on other substances — it may be why they are homeless in the first place," said Joe Lowry, a spokesman for the International Red Cross in Europe.
"Alcohol creates the illusion of being warm, so it's not surprising that people are drinking and not surprising that they pass out," he said, adding that this is when hypothermia can occur.
"Our approach would be to try to get to these people before they have too much to drink, if we can find them and get them to safety. Obviously, a full belly or hot drinks is far, far better for you than vodka."
Red Cross volunteers have been working with authorities to help distribute warm clothing, boots, hot food and drinks in the Ukraine and elsewhere, Lowry said from Slovakia.
But, he added, the people who are most in need of help are often hard to locate.
"These people are outside the normal safety nets, difficult to find, and don't realize the great danger they are in."
Kiev marked its 25th consecutive day of below-freezing temperatures Thursday. It would normally expect a high of minus 2 degrees Celsius at this time of year, CNN meteorologist Brandon Miller said.
And there is little respite in prospect for those suffering in the unusual cold.
Another surge of frigid air is pushing westward out of Russia into the rest of Europe for the end of the week, with Central and Eastern Europe catching the brunt of the coldest air, Miller said.
Temperatures in some of the hardest hit countries, such as Ukraine, Romania, Hungary and Serbia will once again drop below average by as much as 15 to 20 degrees Celsius (25 to 35 degrees Fahrenheit).
Temperatures are likely to remain below average well into next week, at the least, with no significant warming likely until late February, Miller said.
Parts of the Danube River, one of the most important rivers in Europe for commerce, have nearly frozen over for the first time in 25 years, showing not only the intensity of this cold snap, but also its longevity.
The sustained cold spell is also putting a strain on power providers across the region and has raised questions over Europe's reliance on Russia for gas as supplies sent via Ukraine have dipped below the expected levels.
Ukrainian Energy Minister Yuri Boyko said electricity consumption in the country is historically high.
But in an interview with CNN, he rejected suggestions that Ukraine has been siphoning off gas as it transits from Russia to Europe.
Gazprom, Russia's gas monopoly, has denied sending lower volumes of gas to Europe.
At least 250 people have died across the region during the cold snap.
CNN's Laura Smith-Spark contributed to this report.

CNN.com – World